How Smart Blinds Work Directly with Apple HomeKit
How Smart Blinds Work Directly with Apple HomeKit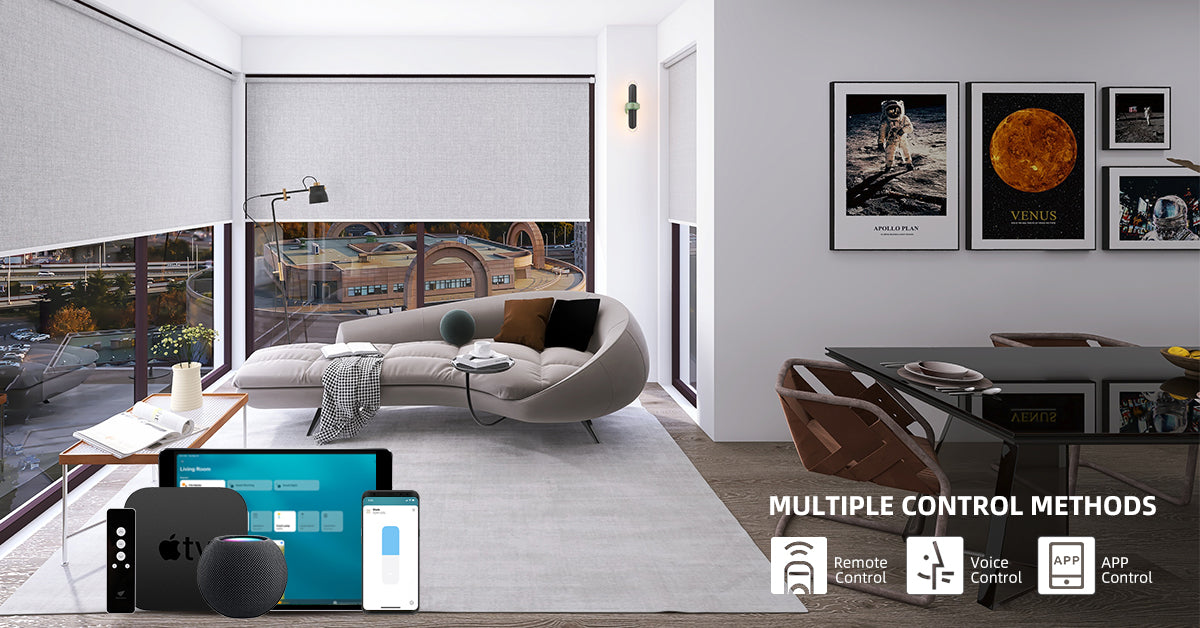 Purchasing smart blinds is an exciting investment. Not only are you adding value to your home, you are installing a fun new piece of tech to play around with. There are many benefits to your new smart blinds addition, including full compatibility with your current smart home.
If you are equipped with the Apple HomeKit, you can rest easy knowing your SmartWings smart blinds will connect to your current system without any additional purchases. There are many benefits to having your smart blinds hooked up to Apple HomeKit, such as being able to access them from anywhere with no distance limitations.
The setup is quick and easy, and you'll be using your smart blinds in no time. Let's look at how the SmartWings technology makes it easier than ever to connect your smart blinds to your current smart home system.
What Does Apple HomeKit Do?
Before we get into the smart blinds, it's important to understand what the Apple HomeKit does. HomeKit is a smart technology tool that allows you to control your smart home products straight from any Apple device. This can be your iPhone, iPad, iMac, or whatever else you may have. 
The beauty of using the HomeKit is that you can access your smart home devices from anywhere on your phone. Not home and want to turn the lights off? Hop on your phone and that is possible. This technology is also going to allow you to access your smart blinds from anywhere at any time. 
For HomeKit to work properly, you'll need a hub device in your home. This can be an iPad, Apple TV or HomePod. If you are new to smart home technology, you can always go to an Apple Store to have someone assist you in finding the right hub product. Whatever you choose as the hub needs to be connected to WiFi in order to be accessible by your devices and smart blinds.
After you have the hardware setup, you simply setup the Home app on your preferred Apple devices. It is quick and easy, and the app is very intuitive. You'll get the hang of it in no time. Once you're all setup, it's time to connect your HomeKit to your SmartWings smart blinds. 
Connecting SmartWings Smart Blinds to HomeKit
Now that you've got your HomeKit setup and your stylish SmartWings blinds, it's time to connect the two. You can do this by simply opening the HomeKit app on your preferred device and scanning the QR code on the bottom rod of your smart blinds. This will add the blinds directly to your HomeKit app. You will then need to choose where the blinds are located from the places in your home you've added to the app.
The Home app will give you the option to name your smart blinds, and then you're done! If you have multiple sets of smart blinds around the houe, be sure to fgive them distinct names so you don't confuse them. Now you are ready to use your smart blinds with your HomeKit without any additional bridges or plug ins.
Using Your Smart Blinds
The app is simple to use and you can make many adjustments to your blinds right from your phone. There are many benefits to having your smart blinds connected to HomeKit. When you are at home, you can use voice control with Siri to control your blinds. Gone are the days of getting up to mess with cords to adjust your lighting. When you activate Siri, it will listen to what you say and activate the smart blinds accordingly 
You can also use the app to put your smart blinds on a schedule. The blinds can be scheduled around your routine to help you go to bed and wake up naturally. You can also schedule them to open and close throughout the day for optimum lighting and to keep your furnishing from experiencing sun damage due to long exposure. There are many benefits to having your smart blinds set up with Apple HomeKit.
One of the benefits of having smart home devices such as the HomeKit is that you can access the smart devices in your home from anywhere. There are no distance limitations to the HomeKit, so even if you're on vacation you can control your devices. This is especially handy for safety by moving blinds up and down to make it appear that someone is home to deter any potential break ins.
Conclusion
To sum it up, SmartWings smart blinds are an excellent choice for connecting to your smart home with Apple HomeKit. It is a quick and easy process that will enhance your quality of life. Not only that, but you are adding value and style to your home with a very cool piece of technology.
Having smart blinds installed in your home will increase resale value, keep your furnishing safe from sun damage and keep you and your family safe along with increased privacy. SmartWings smart blinds are also great for ensuring maximum insulation of your window fixtures to increase energy efficiency.
Check out our website today if you are interested in smart blinds from Smart Wings. We take pride in offering you smart blinds without the need to purchase a bridge or other outside plug ins along with many sleek and stylish options to choose from.