SmartWings Motorized Blackout And Light Filtering Day/Night Cellular Shades Nowa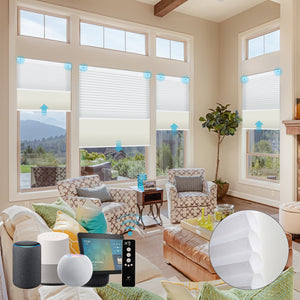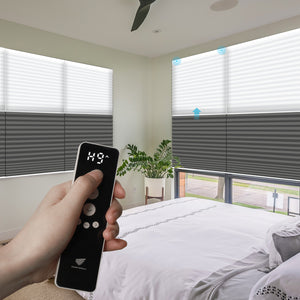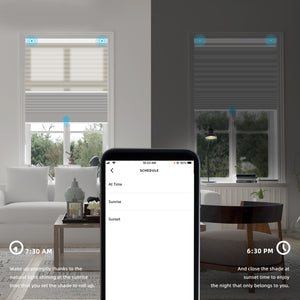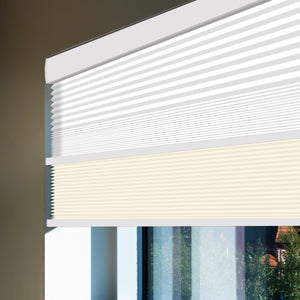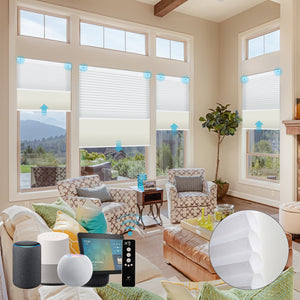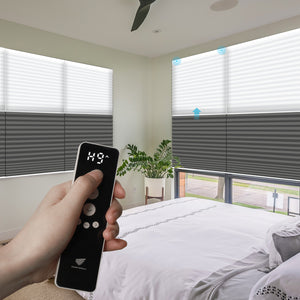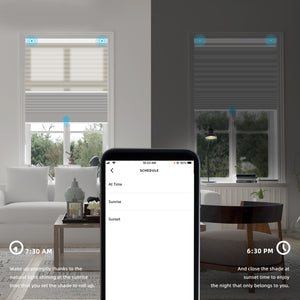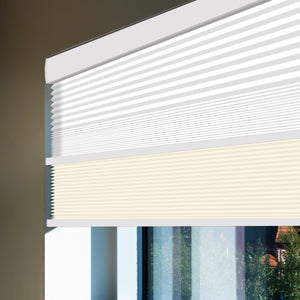 Day/Night Cellular Shades: Toggle between transparency and privacy with ease.
Composed of two cellular honeycomb fabrics that can be moved independently, one for light filtering and another for blackout. Offering varying levels of light control and privacy, allows you to switch between the light filtering and blackout options at ease, providing you with precise control over the amount of light entering your room and the level of privacy you require. When you want to take advantage of natural light in the daytime, you can use the light filtering fabric; when you need complete darkness during the night or at movie time, you can use the blackout fabric.
Hands-Free Voice Control
Use simple voice commands to start a day, open or close the blinds without having to get up, or even change the scene in your dining room to create the perfect ambiance. SmartWings honeycomb shades compatible with Amazon Alexa, Google Assistant,etc.
App Control
With the app you can create scenes and set times to automate shades. Automatically wake up to daylight, save energy through climate control and create the perfect atmosphere at any time. By connecting SmartWings honeycomb shades with your smart home ecosystem, improve the quality of your daily life, and define your unique home tastes and beautify your living space.
Remote Control
The Multi-channel remote control can control at most 9 blinds separately. If you choose 0 channel, it will control all blinds connected to this remote up and down together.
Safe For Child
SmartWings use quite motor, automatic lifting without chain or cord,and our fabric is heat insulation, noise reduction, providing a comfortable environment for children.
Safe To People
Our fabric of smart honeycomb shades is flame retardant and has no harmful chemicals and use non-toxic materials in it, so it can even be used indoors and around children.
More Fabric Options
Shades For Room
SmartWings shade provides a fashion-forward style, privacy, and light blockage for peaceful sleep. Insulation and noise reduction. Not only are these shades great for day sleepers, they are also ideal for media rooms because they will dim the room and keep the sun's glare off your screens. Cordless design friendly to your home environment, children and pets.
Large-Capacity Battery
Motorized cellular shade with 2200mAh Lin-ion rechargeable battery, blind motor can be used for 4-6 months after full charged. When there is no electricity, you can use USB plug charging cable, it is much more safe and applicable. Suitable for living room, bedroom, study room, restaurant and business area.
Made-To-Order
SmartWings cellular shades can be customized to widths ranging from 30" to 109". For shades wider than 110", please contact our customer service team.
Customer Reviews