How To Choose Smart Motors
Rechargeable Motor
Motorized Roller Blinds with Li-ion rechargeable battery, blind motor can be used for 4-6 months after full charged. When there is no electricity, you can use Type-C charging cable, it is much more safe and applicable. Suitable for living room, bedroom, study room, restaurant and business area.
This electric shades adopts specially designed buckle, only need a straight line positioning and 4 screws. With ultra-low voltage, it can be assembled by yourself and no need to pay additional fees to require the electric worker to install.
Standard Smart Motor
SmartWings offer 15 channel remote to control the motor .It can easy control the window treatments for your convenience and comfortable. Shades can be scary for parents and pet owners because of their dangling cords. These cords often pose as a suffocation hazard if children play with them and they become entangled in them. Pets are also in danger as they can also become entangled in the cords if they are very long. When it comes to the safety of your family, motorized window shade provide peace of mind.
Zigbee Motor
The motor can compatible with Samsung SmartThings, Home Assistant , Hubitat and other Zigbee 3.0 Hub. Also, it can connect the Amazon Alexa DIRECTLY via Alexa devices with 5 versions. (Echo Plus 2nd Gen, Echo Show 2nd Gen, Echo Studio, Echo Show 10, Echo 4th Gen). You can control the shades with SmartThing APP from anywhere. It also can sync to Google Home and Amazon Alexa to realize voice control.
Matter Motor
The motor uses the Matter over Thread protocol, which can seamlessly integrate with Apple HomeKit, Amazon Alexa, Samsung SmartThings, Google Assistant, and more. Say goodbye to switching between multiple apps and enjoy the convenience of controlling your shades directly from the app of your choice, faster response times, stable connections, and enhanced data security to protect your privacy. Experience the next level of smart living with Matter over Thread shades, simplify your life, enhance your home, and embrace the future of smart living with ease and confidence.
Homekit Motor
The motor connects the Apple Homekit directly. No gateway or bridge is required for installation, the blinds connect via Thread. Super easy setup simply by scanning a QR code, programming, and control directly on your iPhone. The blinds seamlessly and securely interact with other HomeKit-certified accessories, for example, light bulbs, thermostats, and movement detectors. All data and intelligence are stored locally on the motor, which means data exchanged in the home stays in the home.
Z-Wave Motor
The motor uses the Z-Wave communication protocol, which is widely used by many smart home platforms, including Samsung SmartThings, Home Assistant, and Hubitat. This technology seamlessly integrates with any home device, allowing for integration between multiple products and manufacturers. This enables you to enjoy better-quality home window automation. A variety of different styles of blinds and shades are available as Z-Wave-enabled motorized shades, allowing you to perform various functionalities.
What We Have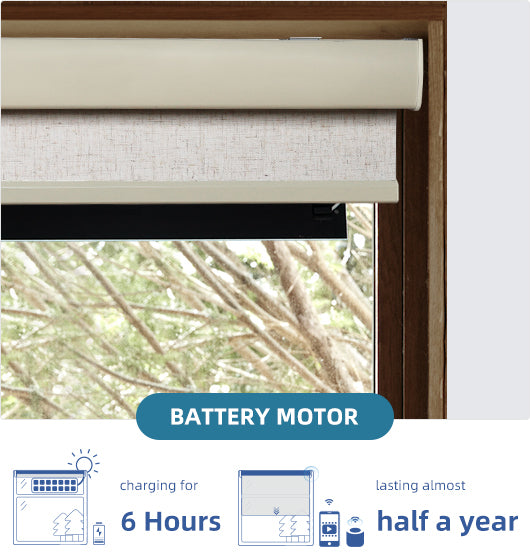 Battery motor with Li-ion recharchable battery can be used for 4-6 months after fully charged. When there is no electricity, you can use Type-A to Type-C charging cable to charge it, it is much safer and more applicable.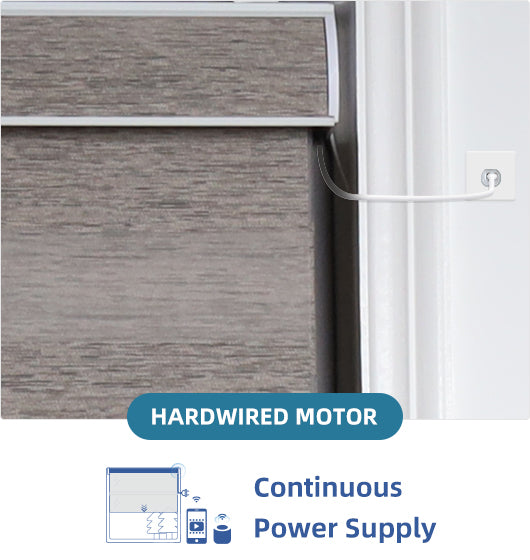 SmartWings hardwired motor won't make you worry about the charging problem. It can also be connected to your smart home system, which is a good option for home decoration.
Comparison of Smart Home Systems Supported by Different Battery Motors
Standard

Zigbee/Alexa

Z-Wave

HomeKit
over Thread

Matter
over Thread

+ Smart Link

+ Smart Link Pro
Remote

Apple HomeKit

/
/
/
/
/
Alexa
/
/
SmartThings
/
/
Home Assistant

/
/
/
/
/
Google Assistant

/
/
Hubitat

/
/
/
/
/
Control4
/
/
/
/
/
/
Crestron Home

/
/
/
/
/
/
RTI

/
/
/
/
/
/
ELAN

/
/
/
/
/
/
Comparison of Smart Home Systems Supported by Different Hardwired Motors
(* If you need hardwired motors, please feel free to contact our customer services for more details.)
Standard

Zigbee/Alexa

Z-Wave

HomeKit
over Thread

Matter
over Thread

+ Smart Link

Wifi

+ Smart Link Pro
Remote

Apple HomeKit

/
/
/
/
/
/
Alexa
/
/
SmartThings
/
/
Home Assistant

/
/
/
/
/
/
Google Assistant

/
/
Hubitat

/
/
/
/
/
/
Control4
/
/
/
/
/
/
/
Crestron Home

/
/
/
/
/
/
/
RTI

/
/
/
/
/
/
/
ELAN

/
/
/
/
/
/
/
Rated Voltage

DC12V
AC110V-230V
DC12V
AC110V-230V
DC12V
AC110V-230V
DC12V
AC110V-230V
DC12V
AC110V-230V
DC12V
AC110V-230V
DC12V
AC110V-230V
DC12V
AC110V-230V